Authentic Signed Memorabilia Store
WHY BUY FROM US?
Authentic Autographed Memorabilia
Autographia is your #1 source of museum-quality, authentic, autographed memorabilia online. Perfect for fans of pop culture, you can find all kinds of signed items in our store – from autographed posters of your favorite bands and musicians to scripts of your favorite movies and TV shows
Certified Authentic
Whether you want to ensure a memorabilia's monetary value or because you simply want the best for your collection, we can guarantee that every item you'll find at our store is 100% authentic. We have hired the services of autograph experts in the industry to ensure that every product we list is real and hand-signed by the stars themselves!
Secure Shipping
Our team ensures your purchases arrive to you in mint condition by professionally packaging and fully insuring each one. And did we mention we offer premium shipping through FedEx within the U.S. completely free? Even international customers won't be disappointed with our affordable, fast and secure shipping options!
SHOP MEMORABILIA
CUSTOMER REVIEWS
See what our past customers are saying about us.
Are You Looking for Signed Memorabilia?
From signed helmets for football fans to autographed photos for music fans, if you're looking for signed collectibles, Autographia has an extensive collection of limited edition items. You'll have no trouble finding your next prized possession thanks to the excellent customer service and fantastic website experience, and you'll also be satisfied and at ease knowing that every item listed comes with a certificate of authenticity and secure shipping.

You autographed collectibles to complete your collection of music, TV, movie, and sports memorabilia. If you want to take your display area to the next level, this is the answer for you! You don't have to worry about a thing when shopping with us because we always ensure that the products we sell are completely authentic. Fans of all types of industries can find a wide assortment of certified authentic signed and unsigned collectibles in our catalog and become the owner of a priceless piece of history. Every person can find something they love in our large collection of authentically signed memorabilia from the best in the industry.
Sports Memorabilia
If you love college football or any other sport from the major sports leagues, Autgraphia is the place for you to be! No matter which athletes or teams you support in the NFL, NBA, MLB, NHL, NASCAR, NCAA, and more, you can find the ideal sports collectibles for your home or office here. A few of the items you can find on our site include:
Signed baseballs
Signed basketballs
Signed pucks
Framed jerseys
Signed helmets
NFL footballs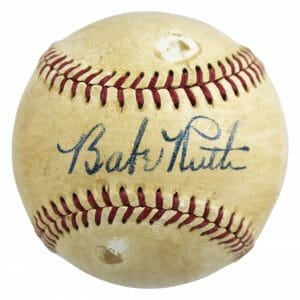 There's no sport quite like the National Football League in terms of the commitment and passion that supporters demonstrate toward their teams. The NFL season always brings out the best in football fans. If you want to fill your fan cave with the finest sports collectibles, stock up on all the best sports memorabilia and autographed merchandise from Autographia. Look no further than Autographia if you're looking for signed jerseys for your favorite player, a plaque celebrating your team's most recent victories, or autographed helmets, footballs, or other legendary memorabilia.
With vintage championship memorabilia, you can showcase your team spirit. Fans of Michael Jordan can purchase genuine memorabilia that has been personally signed by the great player. On our site, you can find mementos from legendary basketball figures as well as framed jerseys, autographed balls, and more. Music Memorabilia Music, including rock & roll, pop, rap, country, and more, not only conveys feelings but also unites people. Fans of all ages appreciate musicians from all generations, from the Rolling Stones to Taylor Swift, for a variety of reasons. There is no need to pass up the chance to collect genuine music memorabilia, regardless of whether you enjoy listening to current music or legendary music from the past. Music memorabilia not only authentically brings the amazing careers of legendary performers into your home, office, and collection room, it adds a sense of style to any place as well.
Autographia caters to all you need in terms of legitimately signed and unsigned memorabilia to satisfy your fandom. From the greats of the past to the brilliant stars currently dominating the music industry, we have it all. Shop our one-of-a-kind online catalog for unique gifts for every special event, such as birthdays, graduations, Christmas, and more, if you're buying for a die-hard collector or fan.
Movie Memorabilia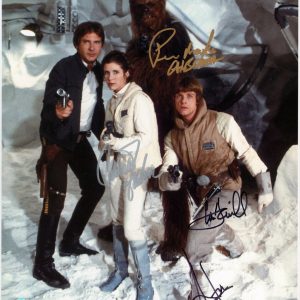 The best way to bring your favorite movies to life is with autographed movie memorabilia, whether you're a fan of classics such as "Indiana Jones" and "Chicago" or of new-age movies, such as "The Hangover" and the amazing Marvel movies. Autographia is the place to go when looking for authentic memorabilia, such as autographed images signed by your favorite Hollywood actor and autographed objects used in movies. Cinema memorabilia is a fantastic way to affordably relive memorable moments from the past and will add value to any movie room, home, or workplace collection. Check out our wide collection of autographed items from the best movies in history.
TV Memorabilia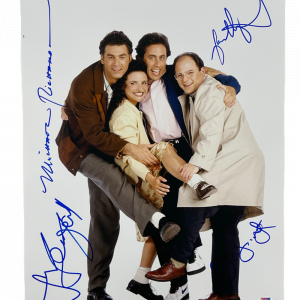 TV has been a special way for friends and family to connect for decades since viewers tune in season after season to watch how the story unfolds in the upcoming episode. Autographia offers all the TV show memorabilia you need to show off your devotion to your favorite series, whether you're a lover of comedy shows such as The Big Bang Theory or a die-hard Game of Thrones enthusiast. There are several ways to bring the characters of your favorite TV show to life in your home, office, or museum space. Whether your favorite program is still on or the last curtain call was many years ago, posters, photos, scripts, and magazines are all wonderful ways to pay tribute to it. TV show memorabilia is a fantastic personal investment and creates one-of-a-kind gifts that every TV fan will adore for years to come. By purchasing signed memorabilia today, you can honor great performers and TV shows from the past and present.
What's Your Autographed Memorabilia Worth?
The value of a signed item is generally determined by the person who signed it, as well as by the item signed, its condition, its accessibility, and market trends that influence supply and demand.
The Value of Memorabilia
Signed baseballs or posters might bring back a thousand memories. Such relics have worth not only in the items themselves but in the memories they evoke of a place, person, or event. Precious memorabilia can be saved and preserved, allowing the emotional ties and the piece to be passed down from one generation to the next.
Get Your One-of-a-Kind Signed Collectibles Today!
Whether you're after signed music memorabilia or basketball memorabilia, Autographia has all the signed memorabilia to help you celebrate memorable moments in history. Get autographs from previous and present champions, including signed footballs, pictures, and more. Check out the collection of music, TV, movie, and sports memorabilia to find the biggest names' autographs.